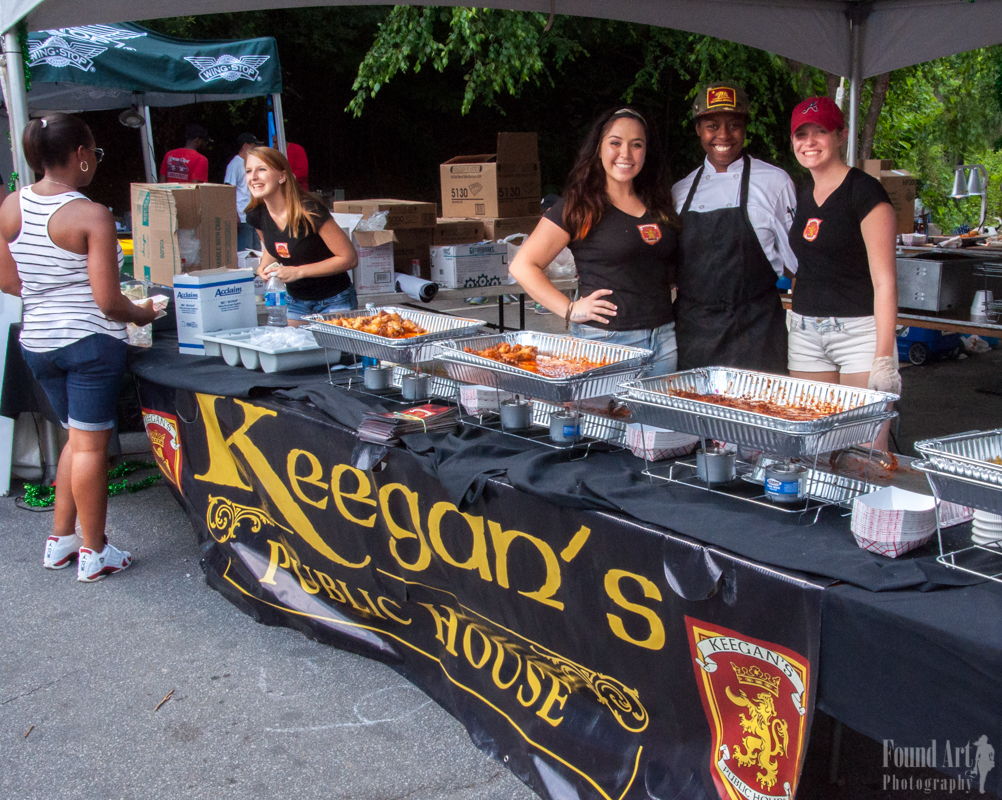 Applications for 2023 are being accepted until February 1st. 
Please read all materials before completing the form below:
WING VENDOR INFO
(10′ x 20′ Area & Food Truck Area)
The Wing and Rock Festival is a 2- day food event; as such, booth space is available to restaurants and other food vendors for the purpose of selling Wings and food items listed within your application. Wing Vendors will control and manage all money exchange at the booth and should proper change to manage this process.
Historically we have about 20+ wing vendors, averaging 4500 wings per vendor. All wings are sold at the rate of 3 for $5 by all wing vendors.  You also are allowed to sell 2 other food items besides wings and these need to be listed on your application. Wing vendors can also sell drinks but no water due to sponsorship.  Once we review your application we will let you know what items have been approved to sell besides chicken wings.  Wing Vendors must also sell 3 types of wings with different sauces, etc.
ELIGIBILITY
All Wing and Food booth applications will be first come – first served. To guarantee a space for the festival you need to complete the application and have payment in full by February 1st. If you are accepted into the show and you display/sell any items that are not acceptable by the event, the exhibitor will be asked to remove the items from their booth. Event producers will do their best not to duplicate food items being sold but will allow other items this year to be sold with your wings. Georgia PEC, LLC & Armus Media Group, LLC reserves the right to accept or deny any applicant. Failure on the part of any booth vendor and/or the booth vendor's staff to adhere to the rules and policies will result in removal, forfeiture of fees and inability to return to for future festivals.
APPLICATION PROCEDURE
READ ALL INFORMATION AND COMPLETE THE VENDOR FOR BELOW.
FOOD VENDOR HOURS
Saturday (Noon – 7:00pm*)
(Please be set up by 10:00 a.m. for inspection)
Sunday (Noon – 6:00 p.m.)
(Please be set up by 10:30 a.m. for inspection)
RULES, INFORMATION & RESTRICTIONS
(MUST READ BELOW)
(Needing more info on how much wings & food you can sell at the festival?  To learn more please complete Contact Form and we can answers any questions.)
The event producers and staff are on duty four hours prior to the start of the Festival each day to allow adequate set-up time. The festival will run rain or shine. If severe weather persists, the Festival may close for a short period of time and then reopen. All vendors are expected to reopen once a decision has been made. If a food or wing vendor leaves the festival and/or does not reopen at the time decided, the event producers reserve the right to dismiss the vendor without refunding any and all fees, etc.
A. Space Size: Food Vendors have a choice between two sizes of booths, 20 x 20 or food truck. All food vendors are expected to run their business within the space provided. If any vendor exceeds the space provided they will be asked to move within the defined area assigned.
NOTE: Only one food vendor per booth will be allowed.
B. Set Up: Vendors are responsible for providing their own set-up (i.e. tables, extension cords, chairs and tents). Since the Event will be held as scheduled, regardless of weather, vendors should come prepared to protect themselves against the elements (i.e. sun, rain, wind, etc.). 30 lbs. (minimum) sand bags or comparable are mandatory to anchor tents, canopies, etc.
C. Motorized vehicles ARE NOT permitted in the Festival area. Non-motorized campers or booths may be used for the sale of food upon prior approval. The only exception will be approved food trucks and they will be charge at the food truck rate.
D. Parking will not be allowed in the immediate event area.  Vehicle access to booths during the event will not be available.  If you need to drop off staff or items for your booth you can pull into the roundabout at the front of the park to do a drop off.  A golf cart will be available to use if needed.  All other vehicles need to be parked in designated parking areas.  Please see site plan for vendor parking.  Vendor parking is available onsite inside the festival.  Once it fills up you will need to park outside the park.   Cars cannot be removed from onsite vendor parking until after 9pm on Saturday & after 6pm on Sunday.
E. Electrical needs for storage; preparation and operation must be listed on the Food Vendor Application. Receptacles are utilized on site and generators will be on site. Vendors must be able to use GFI receptacles. Request for additional electrical needs are to be noted in the Electrical Services portion of the Wing & Food Vendor Application. Pending availability, each additional 20 amp, 110 volt circuit will be invoiced accordingly.
F. The use of gas/propane is permitted.
G. Generators are allowed but we need to know that you are bringing one so we can place you in best location.
H. Extension cords ARE NOT available from the Parks or event producers. Only heavy-duty, outdoor, UL listed extension cords may be used.
I. Wing & Food Vendors using grills MUST provide a means for smoke abatement.
J. Wing & Food vendors will be expected to strictly adhere to all provisions stipulated under the event producer's permit. No refunds will be given due to failure to comply with Health Department codes.
K. Any changes in menu must be provided in writing and approved by the Festival Committee. Due to the potential for duplication, not all menu items will be selected. We want to ensure that every food vendor has the highest potential for success. Vendors may only sell items agreed on by Georgia PEC, LLC & Armus Media Group, LLC. Most vendors will be limited to 3 other items excluding wings.
L. Vendors ARE NOT ALLOWED to sell any beverages, including water. No exceptions will be made during the event. The event producers reserve the right to dismiss the vendor without refunding any and all fees, for using or selling beverages.
M. Several large trash receptacles will be provided by the Event Producers and Parks Department at key locations throughout the Festival area. Vendors are asked to provide trash bags or additional trash receptacles in their food vending areas to insure adequate space for trash disposal. Vendors are responsible for placing their trash in dumpsters located on the Festival grounds. Food vendors are responsible for removing any and all trash from their areas the last night of the Festival. Those that do not adhere to this regulation and leave trash in their respective areas are subject to a $250 clean up fee.
N. Vendors are not allowed to dump grease or wastewater on the street or in sewer drains at any time. Vendors should have containers to manage their disposal and removal of grease & wastewater.  It is required to have plywood, cardboard or roofing tar paper placed underneath all booths using grease to prevent spillage onto the festival grounds.
O. Water will be available on the Festival grounds. Please see site plan for water locations indicated in a blue "W".
P. Vendors MUST provide an appropriately decorated booth from which to conduct food and beverage sales. Booth sizes should not exceed the provided space. The height of the booth (including banners and displays) should not extend more than 15' from the ground to the top of any tented booth. A booth may consist of banquet type tables, with side tables to create a horseshoe effect. Tables must have coverings (whether paper or cloth) to the ground all the way around. Table coverings should be decorated and festive, with décor appropriate to the festival. (Additional tables maybe available for an additional fee of $20.00 per table.)
Q. Souvenir items (i.e. t-shirts, bumper stickers, balloons, buttons, cups, etc.) used for advertisement purposes ARE permitted to be distributed or sold but CANNOT advertise competitive brands from our festival sponsors (i.e. Festival sponsor is Budweiser so no Miller branded items).  This also applies towards banners & signs.   Only sponsor brands are allowed to be listed on signs & banners placed at your festival booth.
R. Prices are set by the individual vendors, except ALL wings, which are to be sold at $1.00 per wing for sampling but to ensure a successful and friendly sales atmosphere. Other food items the event producers strongly urges vendors to charge fees that are in line with their event neighbors.
S. Both non-cooking booths and cooking booths MUST have a flame-resistant treatment tent with an NFPA 701 rating. Certificate of flame-resistance must be present at the event. Note Certificate rating CA-85 does not meet this certification. Vendors who fail to comply with this code may be shut down by the fire marshal until such time as the issue has been resolved. No refunds will be given due to failure to comply with fire codes. A Class B Fire extinguisher is required by all vendors cooking with grease & oil are required when cooking onsite.
T. Failure to adhere to these regulations will jeopardize participation in this festival and future festivals.
FINANCES & FEES

A. Booth Fees: A $350.00 payment is required with the Wing & Food Vendor Application. If accepted into the Festival, the payment becomes non-refundable. If not accepted, the payment will be returned.
B. Record Keeping: Food vendors will be required to keep an accurate record of food and beverage sales through the festival. Accurate reporting of gross sales is expected to ensure future participation.
C. Except for the specific items detailed above, Georgia PEC, LLC & Armus Media Group, LLC will not accept the responsibility for any financial commitments and/or obligations undertaken by an individual organization.
ADDITIONAL POLICIES
ALL TENTS MUST BE SECURED AND WEIGHTED DOWN WITH A MINIMUM OF 30lb WEIGHTS ON ALL FOUR CORNERS. The tent should be secure enough to withstand any thunderstorms that are not uncommon this time of the year.
BREAK DOWN
During breakdown, which will occur on Sunday at the specified time, exhibitors by chance may not be able to park their vehicle right next to their booth space. Every attempt is made so exhibitors can get as close as they can to their booth space to load their vehicle. A handcart is recommended to assist exhibitors.
SET UP
Each exhibitor is assigned a set up time to prevent congestion on the festival streets. Included with the exhibitor acceptance package a specific set up time is given along with one parking permit. In order to have a successful set up for all exhibitors it is important to adhere to the arrival times and have all information ready available upon arrival. There will be additional festival vehicles and vendors who are arriving for set up around the same time as the craft vendors. Exhibitors who arrive late should be aware that the festival streets are closed to all vehicles at a designated time.  Tents & trucks can be set up on Friday from Noon to 3pm with notification and approval with the festival organizers.  We will have overnight security on both Friday & Saturday night.  Power WILL be available overnight on Friday & Saturday.  
If Food Vendors arrive after the streets are closed to vehicle traffic, exhibitors will have to park outside festival grounds and carry/cart materials to their assigned space. Upon arrival to the festival area exhibitors will be asked the booth number and then you will be directed to the booth location. Be prepared to unload all materials/supplies that are needed to set up the booth. Vendor will be asked to park their vehicles off festival grounds once all materials are unloaded. Festival marshals will assist in directing exhibitors where to park. Parking is within walking distance. Exhibitors can then return to their booth to continue set up of their booth.
Wing & Food Vendors should be prepared and ready for public viewing/serving:
Saturday by 10:00 a.m. and Sunday at 10:30 a.m.
PARKING
Parking is allowed in the Festival area. We recommend arriving early to unload your booth items and then parking your car ASAP to ensure you have a parking space close to the festival.  Please see parking map on website for festival parking areas.  Towing is strictly enforced around the festival area so please be sure to park in a designated parking area.
OPENING TIMES & CLOSING TIMES
Booth displays are permitted to stay up Saturday night. All items must be enclosed within a tent with 4 sides and must be out of public view. The display and tent should be secured and weighted down and able to withstand a thunderstorm or high winds. The vendor is responsible for all items left overnight. The City of Canton and Georgia, PEC, LLC and Armus Media Group, LLC is not responsible for any items lost or damaged. There will be a security guard present to help monitor the area overnight on Saturday.
WEATHER
The Wing and Rock Festival will not be cancelled in the case of inclement weather unless we are advised otherwise by goverment officials. Exhibitors are to be fully prepared to protect against adverse conditions, such as rain, wind, sun, heat, etc. If severe weather conditions persist, i.e., thunderstorm/lightning, the Festival will temporarily close down and then reopen. Vehicles will not be allowed in the Festival area during cloudbursts – please be prepared to protect your merchandise. Vendors are expected to reopen their booths as soon as possible once the weather has cleared and the Festival reopens. No refunds will be issued for inclement weather.
SALES TAX
All exhibitors are required to pay tax their own taxes and the Wing and Rock Festival (Armus Media Group, LLC and Georgia PEC, LLC) is not responsible for reporting sales and/or paying sales tax on sales made at the Wing and Rock Festival for any vendor.